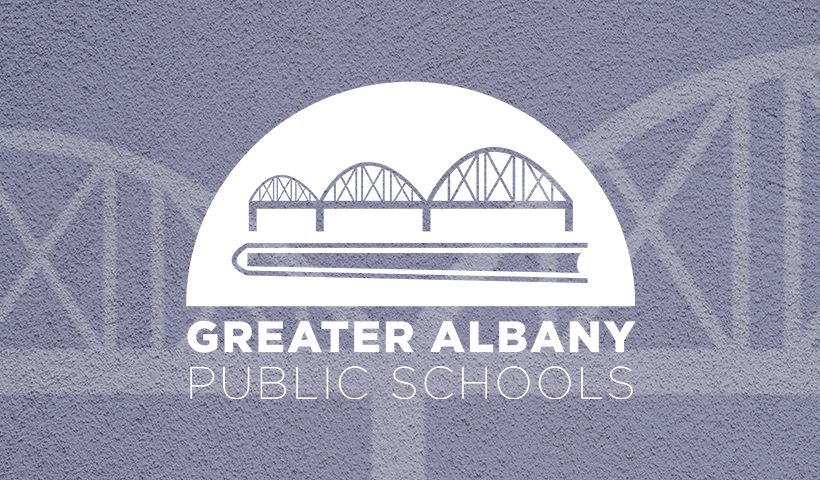 Gardner named next GAPS superintendent
The Greater Albany Public Schools Board of Directors has selected Andy Gardner as the district's next Superintendent effective July 1, 2022. Current Interim Superintendent Rob Saxton will be complete his contract through June 30, 2022, and the pair will work together during the coming months for a smooth leadership transition.
"The board greatly appreciates the support we received from the community leading to the decision to hire Andy Gardner as superintendent," said Board Chair Eric Aguinaga. "We are looking forward to Andy's leadership and direction he will bring to GAPS. We would also like to thank Rob Saxton for leading GAPS and dedication to our community."
Since 2010, Gardner has served as the Superintendent of North Santiam School District, which encompasses Stayton, Sublimity, Lyons, and Mehama. Prior to his current position, he was the Principal of Stayton Middle School (2007-2010) and of Sublimity School (2002-2007). He is a distinguished education leader who has spent his career with North Santiam School District.
Additionally, Gardner has served on several state-level workgroups including with the Confederation of Oregon School Administrators (COSA) Vision and Policy Committee (2012-2017); COSA Superintendent Executive Council Member (2018-2021); Oregon School Activities Association (OSAA) Executive Board Member (2012-2018); and several other committees.
I am honored and humbled that the GAPS community has selected me to serve," said Gardner. "The process gave me the chance to meet many community members, and I am certain that the community and its schools are full of dedicated and talented people who want the best for the young people in Albany. I'm excited, and look forward to the work."
The announcement of Gardner comes after the Board's six-month search process with coordination and feedback from staff, parents and the community through the Superintendent Search Team, Stakeholder Survey, Stakeholder Meetings, Community Interview Team and the Final Interview process including stakeholder groups, candidate video and survey. 
"I have participated in a number of search processes over the course of my career and in my consulting work, and I've never seen a process that involved more community input and purposeful transparency on the part of the Board than this one," said Interim Superintendent Rob Saxton. "In the end, the Board had two great candidates to choose from and decided on Andy Gardner. I am confident he will do a terrific job for the district."
---
Sr. Gardner nombrado como el próximo Superintendente de GAPS
La Mesa Directiva de las Escuelas Públicas de Greater Albany ha seleccionado al Sr. Andy Gardner como el próximo Superintendente del distrito a partir del 1º de julio del 2022. El Superintendente Inte
rino actual, Sr. Rob Saxton, completará su contrato hasta el 30 de junio del 2022, y ambos trabajarán juntos durante los próximos meses para lograr una transición de liderazgo tranquila.
"La Mesa Directiva agradece enormemente el apoyo que recibimos de la comunidad que llevó a la decisión de contratar al Sr. Andy Gardner como Superintendente", dijo el presidente de la Mesa Directiva, Sr. Eric Aguinaga. "Esperamos ansiosamente el liderazgo y la dirección que Andy traerá a GAPS. También nos gustaría agradecer al Sr. Rob Saxton por liderar a GAPS y su dedicación a nuestra comunidad".
Desde 2010, el Sr. Gardner se ha desempeñado como Superintendente del Distrito Escolar North Santiam, que abarca los pueblos de Stayton, Sublimity, Lyons y Mehama. Antes de ocupar su cargo actual, fue director de la Escuela Secundaria Stayton (2007-2010) y de la Escuela Sublimity (2002-2007). Es un distinguido líder educativo que ha pasado su carrera en el Distrito Escolar North Santiam.
Además, Gardner se ha desempeñado en varios grupos de trabajo a nivel estatal, incluyendo el Comité de Políticas y Visión de la Confederación de Administradores Escolares de Oregón (COSA por sus siglas en inglés) (2012-2017); Miembro del Consejo Ejecutivo del Superintendente de COSA (2018-2021); Miembro de la Mesa Directiva Ejecutiva de la Asociación de Actividades Escolares de Oregón (OSAA por sus siglas en inglés) (2012-2018); y varios otros comités.
"Me siento honrado y humildemente agradecido de que la comunidad de GAPS me haya seleccionado para servirle", dijo el Sr. Gardner. "El proceso me dio la oportunidad de conocer a muchos miembros de la comunidad y estoy seguro de que la comunidad y sus escuelas están llenas de personas dedicadas y talentosas que quieren lo mejor para los jóvenes de Albany. Estoy emocionado y espero ansiosamente el trabajo".
El anuncio del Sr. Gardner se presenta después del proceso de búsqueda de seis meses de la Mesa Directiva, con la coordinación y los comentarios del personal, los padres y la comunidad a través del equipo de búsqueda del Superintendente, la encuesta de partes interesadas, las reuniones de partes interesadas, el equipo de entrevistas comunitarias y el proceso de entrevista final, incluyendo los grupos de partes interesadas, video de los candidatos y la encuesta.
"He participado en una serie de procesos de búsqueda a lo largo de mi carrera y en mi trabajo de consultoría, y nunca he visto un proceso que involucre tantos aportes de la comunidad y significativa transparencia por parte de una Mesa Directiva como esta", dijo el Superintendente Interino Saxton. "Al final, la Mesa Directiva tuvo dos grandes candidatos para elegir y se decidió por el Sr. Andy Gardner. Confío en que hará un excelente trabajo para el distrito".