Waverly Student Item Pickup is this week (April 27-30)
When can I pickup my child's items?
Monday, April 27 – 8:00-11:00am, 2:00-5:00pm
Tuesday, April 28 – 8:00-11:00am, 2:00-5:00pm
Wednesday, April 29 – 3:30-6:30pm
Thursday, April 30 – 3:30-6:30pm
Here are a few reminders for families:
Families MUST REMAIN in their cars throughout the entire pickup process.
If you are unable to arrive in a vehicle, the walk-up location is at the cafeteria doors behind the brick wall on Columbus Street. Please follow CDC guidelines by maintaining 6 ft distance from others and wearing a face mask where possible.
You CAN and SHOULD pick up items for ALL Waverly students in your household at the same time. For example, if there are children in the household with different last names, there is no need to come to Waverly twice. Just tell the Waverly Staff the names (first and last) of the students you are there to pick up for, and we will deliver it all out to you.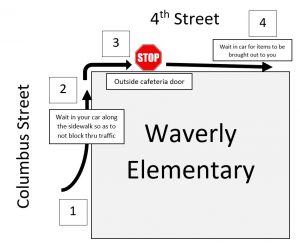 Explanation of Diagram:
Drive north along Columbus Street.
Turn right on 4th Street. If there is no room to turn, wait in your vehicle along the sidewalk in front of the school until directed to turn right onto 4th. (Please do not block through traffic on Columbus street while you are waiting.)
After turning right onto 4th Street, pull up in front of the cafeteria doors. A staff member will ask for your child/children's names.
Pull forward along 4th street to await a staff member to deliver your child's/children's items directly to your car.
---
La recogida de artículos de los estudiantes de Waverly comienza mañana.
¿Cuando puedo recoger las pertenencias de my hijo(s)?
Lunes 27 de abril – 8:00-11:00am, 2:00-5:00pm
Martes 28 de abril: 8:00-11:00am, 2:00-5:00pm
Miércoles 29 de abril: 3:30-6:30pm
Jueves 30 de abril: 3:30-6:30pm
Lo siguiente son algunas recordatorios:
Las familias TIENEN QUE PERMANECER en sus coches durante todo el proceso de recogimiento.
Si no puede venir en un vehículo, puede venir a las puertas de la cafetería detrás de la pared de ladrillos en la calle Columbus. Siga las pautas de los CDC manteniendo una distancia de 6 pies de los demás y usando una mascarilla cuando sea posible.
Puede y debe recoger artículos para todos los estudiantes en su hogar al mismo tiempo. Por ejemplo, si hay niños en el hogar con apellidos diferentes, no hay necesidad de venir a Waverly dos veces. Solo dígale al personal de Waverly todos los nombres (nombre y apellido) de los estudiantes por los que está allí para recoger, y se lo entregaremos todo.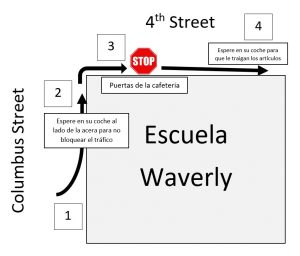 Explicación del diagrama:
Conduzca hacia el norte por Columbus Street.
Gire a la derecha en 4th Street. Si no hay espacio para girar, espere en su vehículo al lado de la acera frente a la escuela hasta que se le indique que gire a la derecha en 4th Street. (No bloquee el tráfico en la calle Columbus mientras espera).
Después de girar a la derecha en 4th Street, deténgase frente a las puertas de la cafetería. Un miembro del personal le preguntará los nombres de sus hijos.
Avance por 4th Street para esperar a un miembro del personal que entregue los artículos de su hijo/a directamente a su coche.